FREE EBOOK
The Dark Web Guide:


How Law Firms Can Stay Proactive in Preventing Breaches

The Dark Web can be full of dangers that can harm law firms and their clients—discover what you need to know!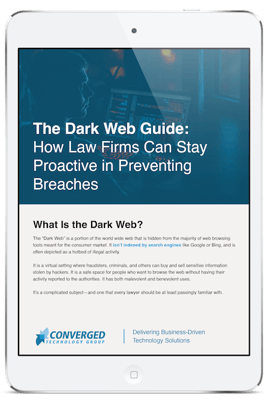 Protect Your Clients
A staggering 293 million people were impacted by security breaches in 2021. And while the severity varies by incident, the result of such breaches can be catastrophic.
Law firms manage lots of sensitive data, and that can leave clients vulnerable to getting their personal information leaked. The best way to give your clients peace of mind and protect your business from costly data breaches is by staying informed on potential attacks and implementing a prevention strategy.
This ebook focuses on the dark web, showing how it operates, how it impacts law firms and their clients, and what you can do to stay proactive against security breaches.
Get a Dark Web Scan Now
Protect your law firm's reputation by proactively checking to see if your firm's sensitive information is being sold on the Dark Web.